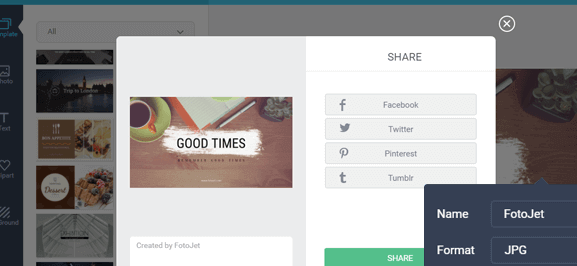 Apps
FotoJet: A Simple and Practical Photo Editor
Today, a wide variety of tools exist for modifying visual content. In addition to the extremely potent Photoshop and Gimp, I will introduce you to FotoJet, a very interesting and easy-to-use web application that will allow you to quickly and easily edit photos and create beautiful creations such as birthday cards, photo collages, flyers, and banners for your favourite social networks without the need for any specialised knowledge or pre-installed software.
The user interface of FotoJet is straightforward and basic. Launch the website's homepage and then choose either the Design Creator, the Photo Editor, or the Collage Maker to get started. A simple web-based operation; pick a template, add images, make a few tweaks, and out pops a stunning final product. Read More
There are hundreds of templates for graphic design and collages that can be used for cards, magazine covers, Facebook covers, YouTube thumbnails, blog graphics, posters, social media banners, collages, and other layouts.The templates can be changed in many ways, such as by adding text (or just one character), using effects, adding frames, and so on.
Cropping, rotating, resizing, adding effects, altering colours, creating a vintage appearance, adding text, and using clipart are just a few of the many photo editing options available. Basically, you may add an image and tweak it to the extreme to make it recognisable. It's a quick and simple way to edit your images. Learn More
In addition to being able to print off your own custom image right away, it can also be uploaded to social media sites like Facebook, Twitter, Pinterest, and Tumblr.
Conclusion
If you're searching for something more than just a professional outcome but still want a fast and easy-to-use tool, go no further than FotoJet. This option could be just what you need if all you want to do is produce or modify photographs. It's something you have to experience for yourself.
You can use FotoJet's main features for free, but if you want access to all of the content, you'll need to upgrade to the paid version. After that, you'll gain access to these premium options:
What kind of editing software do you use, if any? Feel free to leave a comment with your thoughts.