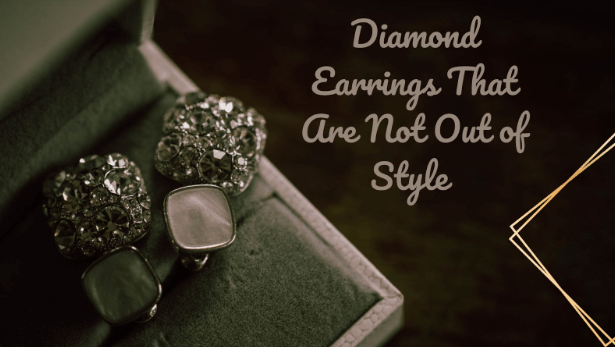 Fashion
Diamond Earrings That Are Not Out of Style
Are you looking to buy diamond earrings to add to your collection? Well, there are various options that you would consider if you're going to buy diamond earrings. But then, we would advise you to buy timeless diamond earrings that won't go out of style quickly.
This post will explore everything you need to know about diamond earrings. It will focus on the best timeless diamond earrings that you should consider buying. Read it to the end to know the diamond earrings that are in style and that won't go out of style anytime soon.
These are some diamond earrings that are worth buying.
1. Drops
You will also need to look at drops when looking for timeless earring designs. Drops look great with almost every outfit. You only need to choose drops that have the number of layers you want. These diamond earrings are mostly stationary, but they move a bit since they hang.
When buying these diamond earrings, you can choose the material that best fits you. There are two main types of diamonds that you can choose from when choosing – lab-created diamonds and naturally mined diamonds. When buying drops, it will be easy to settle on lab-created diamond earrings. 
The earrings become all close to your heart with their strict ethical mining factor and ecological sustainability.  That's especially so if you are strictly looking for this design and are working on a budget. It will be easy to save money while still getting similar value if you consider lab-created diamonds. 
2. Studs 
Buying diamond studs can be an excellent idea if you want to invest in stylish jewelry. Studs look great, and are small, and are simple, characteristics that make them worth buying. They have also been among the most popular diamond earring designs on the market in recent times.
There are different things that you might need to consider when buying diamond studs. You need to look at the size and shape. You also need to consider the material, which could be any of the two main types of diamonds on the market, i.e., either natural or lab-created diamonds.
However, the final decision on which diamond studs to buy will depend on your needs and preferences. The good news is that studs get attached directly to your earlobe, so they do not dangle. If this is the style you have been envisioning as a part of your collection, then investing in them is worth as a jewelry lover.
3. Clip Ons
You don't have to pierce your earlobes to wear earrings. Not everyone wants to go through the whole process of piercing and healing. Or, your kid might want to wear earrings, but then piercing their ears becomes daunting. The best option will be to invest in clip-ons.
These are diamond jewelry pieces that you can attach to your ear without piercing it. You only need to put the earring in position and apply a little pressure on both sides. They can stick to your lobes for as long as you want. Also, clip-ons are the easiest earrings to remove.
You can also choose the types of diamonds for your clip-ons. For instance, you might be looking to invest in lab-created diamond earrings. Clip-ons made from lab-grown diamonds aren't any different from those made from natural ones. Read More about wedding jewellery
4. Day & Night 
This is another diamond earring design that will not go out of style soon. Day and night earrings have been around for some time. It's just that they are known by different names. Some call them day-to-night earrings. However, all these names mean the same.
The day and night diamond earring design is divided into two parts. This means you can choose how to wear it and at what time. For instance, you can attach a separate detachable part that comes with the earring. You can leave it with the day part only or add the night part at any time.
5. Hoops
This is another earring style design that is unique and stylish. Hoops never go out of style because of their unique design. They have a shape that's not easy to find with other earring designs. They come in a wide range of sizes from which you can choose the best.
The sophisticated design of hoops makes them easy to match with different outfits. They are also suitable for daily wear, a feature that also makes them worth considering. Also, you cannot go wrong with choosing these earrings, especially for evening wear.
6. Huggies
These earrings belong to the same family as hoop earrings. There are only a few differences that you might notice, especially in their design. Huggies are, however, very popular, making it an excellent idea to mention them separately. Almost every jewelry lover owns huggies.
Huggies get their name from how they hug a person's earlobes. They fit closely, and there's little to no chance that they can slip away. Also, it is nearly impossible to see the hinge when wearing these earrings since they fit tightly. Huggies will still be fashionable for many years.
7. Dangles
It can be easy to mistake dangles for drops we'll discuss this later on. The best way to differentiate them is by noting that dangles can be drops, but drops cannot be dangles. Dangles move because they hang from the earlobes where they are attached.
You can choose the style and type of dangle earrings that you want. Also, it is vital to look at the size that best fits your needs and preferences. Some dangles can be so big that they almost reach the shoulder. You only need to choose what you'd like to wear every day.
Conclusion
You now know where to look for the best diamond earrings.It is important to ensure that the earrings you buy aren't out of style. Buying fashion items will make you look modern and will add elegance to your look. This article has made it easy to buy trendy earrings.
It would be an excellent idea to check out all the earring designs we've discussed. That will make it easy to ensure you build a diamond jewelry collection that will remain in style for a long time to come. You should consider using the tips we've shared above to get started with it.